OUR RV FAMILY
Our Team Is Dedicated To Making Your Dreams Reality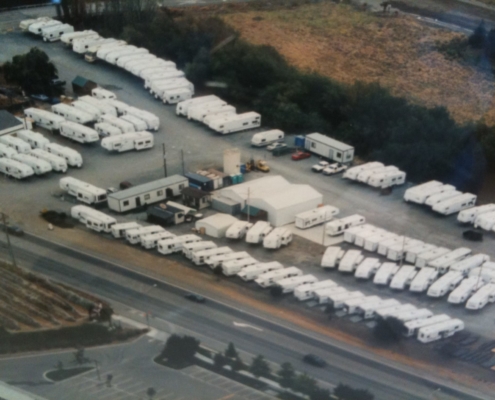 A good number of years ago, Dan Reed started selling small utility trailers from what was supposed to be his used truck lot. Those that dropped by would find Dan contemplating how well this new venture was going to work. As it turns out, it worked extremely well.

Reed's Trailer Sales started with a few small utility trailers and has grown to a multimillion-dollar inventory that includes RV Travel Trailers, Fifth Wheels, Toy Haulers and one of the largest selections of utility trailers in Northern California.

The success of Reed's Trailer Sales isn't entirely based on their huge selection of quality trailers. Dan credits the people that work with him and their dedication to customer service for helping to grow a small selection of utility trailers into a multi-million dollar inventory spread out over 6-acres.

In the old days, Dan would greet his customers with a charming smile and local hospitality. Things haven't changed. In fact, every one of the people working at Reed's Trailer Sales has that same local feel and personally enjoy the RV lifestyle with friends and family. It's what makes their customers comfortable and what keeps them coming back, for service and an occasional conversation about the weather.

This is a company that has a passion for RV Trailers. Strike up a conversation with one of the sales reps and the chances are you'll hear a good story about a recent adventure into the backwoods, or the high desert, or a favorite campsite. When you talk with a sales representative at Reed's Trailer Sales you're not being sold a trailer, you're being introduced to a lifestyle. Their goal is to help you find the right trailer.

Just about every trailer dealer would like you to believe they have the best, but according to the trade publications, not every trailer qualifies for the title. When Dan started building his inventory he went looking for the best. He did his shopping so that you would find quality in every unit he sells, from the country's #1 selling Montana and #2 selling Cougar fifth wheel and travel trailers to California's #1 selling Toy Hauler, Weekend Warrior.

If you are a veteran or if you are new to the RV lifestyle and want to enjoy the comforts of home while exploring new adventures, Reed's Trailer Sales invites you to drop in and talk about a trailer, or even the weather.